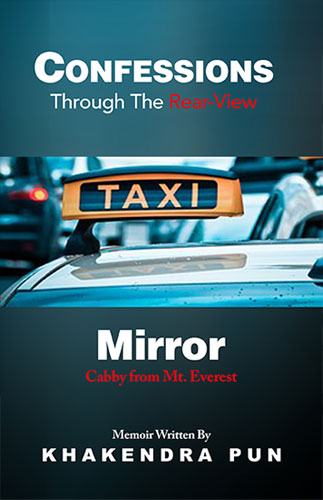 Physical Attributes
Width : 5.5"
Height : 8.5"
Cover Type : Soft Cover Bound
Pages : 491
Printed : 300 Limited Edition
Buy this book
Confessions Through the Rear-View Mirror
When I first moved to New York, between layers of chaos, when everything turned upside down, undergoing bankruptcy, the tragedy of love, while my dream started shattering down, during that hardest time of my life, becoming a Yellow Cab driver, I stood for the biggest challenge. Despite barely making enough money to live, something deeply started inspiring me at my work. The amazing stories of people who sat in the backseat of my cabby. In my cab, some people cried, some laughed, some danced, some yelled, some threatened, some sad, some happy, some miserable, some uplifted, some rich, some poor, some succeeded, some failed. At the same time, some had homes and others empty, while some traveled around the world; others circled in their neighborhood. Within me, something woke me up, kept reminding myself how precious this life was.
Between the chaos of life, living in such a fast-paced world, every day, I kept realizing something very important. While we worry about things, everything could fail, homes could vanish, jobs could disappear, wealth could be destroyed, the life of anyone could end at any moment. Waking up in my own realm of happiness, I began appreciating this life more. Years went by. After working under eight different ride-sharing companies in the taxi industries, picking over 10,000 customers from 115 different countries around the world, people of every color, race, and background holding every job position you could imagine, have sat in the backseat of my cab. Inspired by them, I've put together this book to uplift mankind to bring humanity closer despite every little circumstance that we all have to live. Stories that would've vanished forever, otherwise.
In my book, you will find inspiring and mind-boggling stories of Doctors, Nurses, Wall Street Bankers, Lawyers of every field, Fox news employee, CNN producer, Writers, Filmmakers, an employee of Discovery Channel, Poker player, NBC broadcaster, Porn Star, Message Therapist, Dentists, ABC news crews, Woody Allen's employees, World-renowned musicians, Drug and Environmental scientists, Road Scammers, Poets, Painters, Computer and Civil engineers, people who survived in 911, people who built twin towers, U.N Leaders, Ballet dancers, an employee of Yoko Ono, Psychiatrists, Billionaires, Film Producers, people who met Nelson Mandela, people who climbed Everest, Busboy who served food to many presidents, Philosophers, Dancers, Comedians, Flight Attendants, Pilots, Hunters, White house Employee and many more.
As a cab driver, one of my ultimate dreams was to meet the highest rank of people on earth with direct contact or through the means of one or two degrees of human separation, which I believe, I've accomplished in doing so through perseverance. Hustling through the traffic, while sharing stories with my customers, at every red light, and every spare moment, writing notes on pieces of paper, during the pandemic, the hardest times of our lives, I've put together my book to share with you.
My ultimate dream was to show the connection between all of us, despite our differences in how we look or what we do for a living. After all, we live under one blue sky. And don't forget, this mother earth is our only home for every one of us. Despite all your difficulties, try embracing this beautiful life with smiles, my friends, because tomorrow we might be gone. I believe through the genuine kindness that we display around others will slowly help uplift the glow of humanity on earth.
Buy this book