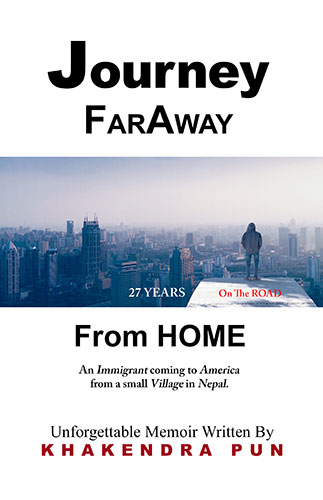 Physical Attributes
Width : 5.5"
Height : 8.5"
Cover Type : Hard Cover Bound
Pages : 447
Printed : 300 Limited Edition
Buy this book
Journey faraway from home
As a young boy, seeing many western tourists walk through our village, I dreamed of coming to America. At home, Mother couldn't even afford to buy us warm clothes, yet, there I was dreaming big. But life has its own purpose. Under the fate of my own destiny, in the early winter of 1990, I met an American hiker above our village and told him all about my dream. Later, through the help of his mother Judith Wright, in the summer of 1991, arriving in San Francisco, I began a new part of my life's journey. A journey that was to last over 27 years. During which times, while moving from one place to another across America from West Coast to Midwest, then to East Coast, I did many odd jobs, from factories to computer companies, retail stores, fast food restaurants, building houses, planting flowers, hauling wood to cutting trees, taxi driving and so on.
As a first-generation immigrant, I didn't realize the difficulties that lay ahead of me. My struggle to survive never ceased; being unable to get my Green card, losing loved ones back home, battling dark thoughts while sleeping inside my car for over seven years, I kept writing my stories. After filling 34 handwritten notebooks, I struggled to complete a manuscript. From borrowing friends' computers, walking into libraries, colleges, and university labs, to reviving a found computer laying on the side of the highway, I finished my book in 1998 and started selling it to people wherever I could. The only hope of my future in trying to help my family and our village people.
After years of waiting, finally getting my Green Card, with tears of joy, I was able to reunite with my family in Nepal for the first time in over 12 years. Over two decades later, after succeeding in getting my U.S citizenship, in the hope of getting my book published, I kept writing letters to both literary agents and book publishing companies everywhere only to find denial letters. Despite closed doors, under financial difficulties, I've independently printed this book, "Journey Far Away From Home," so my stories could be heard. I believe the stories in my book will not only uplift people's spirits but inspire them as they seek to realize their own dreams.
Buy this book